We near the end of my MN-8 series with a look at several people either considering a run or being suggested as DFL candidates to challenge freshman Rep. Chip Cravaack (R-MN8) in this northern Minnesota district. These posts are subjective analysis from one person, me, a former reporter and political observer from the region in question. Thus the work is subject to criticism and rebuttal, which I welcome. This post, more than any other, is one most based on rumors and conjecture and should be treated as such.
The MN-8 race at this stage could probably best be described this way: the DFL is still reeling after Jim Oberstar's stunning defeat and the GOP is still reeling after Chip Cravaack's surprise win. Both claim confidence and competence in the upcoming 2012 contest. I contend that we are all headed to Crazytown and the result is anything but certain.
We can now identify three "front runners" for the DFL nomination, a title they earn mostly by default as the three most active, plausible candidates: Jeff Anderson, Tarryl Clark and Rick Nolan. I don't think anyone expected these to be the candidates after last November's Cravaack win, but they are. Because many of the most obvious northern Minnesota DFLers took their names out of consideration (and in this list I neglected to add State Sen. Roger Reinert, also not running for Congress) we are left with an even more curious lot of dark horse candidates in the wings.
Let's run through some of the more prominent potential candidates:
Daniel Fanning

I considered giving Fanning his own post but he ended up here. For one, this former community organizer and Iraq War vet never announced his candidacy. After several months touring the 8th in the shadow campaign with Anderson, Nolan and Clark, and going so far as to call his campaign likely, he abrubtly pulled back his public schedule, mostly for professional reasons to retain his job as Sen. Al Franken's 8th CD coordinator. However he has not rendered his final decision about whether to run or not and, until his campaign pause, appeared to be gearing up for an outsider campaign.
I had a nice meeting with Fanning back in April. I'd come to know him through his casework helping the steelworker retirees jilted of their pensions from the former National Steel mine in Keewatin (now U.S. Steel's KeeTac) on the Iron Range. He's great one-on-one, seems smart and informed on local issues. His apparent barriers are that he's not well known outside the "new media" landscape of political blogs. He's still finding legs as speaker and is not a native of the district. Though he has lived in Duluth for about a decade, he's spent a lot of time in Twin Cities on political causes. Thus, to win he must build a coalition not likely to include old guard 8th CD DFLers.
If Fanning runs, he'll have the potential to join the others in the front pack, but only if he can craft a compelling narrative and raise a noticeable amount of money in a short time. Unlikely, though possible. He's a dark horse, one to watch.
Yvonne Prettner Solon
The Lt. Governor has not announced any plans to seek the office, though she's been asked and has not categorically ruled it out. Prettner Solon represented Duluth in the state senate for a decade and has a long history with the region. She has the ability to raise money and campaign staff quickly. Prettner Solon isn't known as a dynamic campaigner; rather, she's more of a workhorse legislator who found her way onto Dayton's ticket as geographic balance. She'd probably shake up the race more than any other rumored candidate but has not been making any public moves to do so. With two years left on her term as Lt. Governor she wouldn't be risking much to take a stab, but she's also got to consider whether it's better to stay where she is in a constitutional office or go for the never-ending treadmill that is a Congressional career.
Jerry Janezich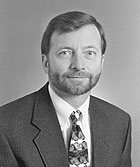 Janezich, the "Jerry" of "Tom and Jerry's Bar" in Chisholm, is a former Iron Range State Senator and 2000 endorsed DFL candidate for U.S. Senate. Current Gov. Mark Dayton outgunned Janezich in the DFL primary, on his way to winning the Senate seat that year. Janezich has spent his time since as the lead legislative director (lobbyist) for the Minnesota State Colleges and Universities system.
Janezich has long held ambition for higher office. One local legend describes him declaring a future candidacy for Congress right in front of former Rep. Jim Oberstar after winning his State House seat in the early '90s. That ambition may have mellowed a bit since the 2000 campaign, but his name has popped up again in the context of this MN-8 race.
One thing to consider about Janezich, the Iron Range DFL organization is looking hard for a labor candidate and has not yet centered on one of the front runners. A labor Democrat from the Iron Range would quickly gain both delegate support for the endorsement and boots on the ground for a primary campaign. With labor scions Tom Bakk and my friend western Range Rep. Tom Anzelc declining to run there is an avenue open for someone like Janezich, or…
Carly Melin
A newly elected state representative from Hibbing, attorney Carly Melin provided a strong dose of enthusiasm to a battered Iron Range DFL this year with her special election victory to replace former Rep. Tony Sertich. Janezich was her campaign chair. The Range DFL establishment along with labor were big factors in her primary win. She's denied any interest in running for Congress this year but her name is often mentioned by local DFLers as a potential recruit. She's young, has a lot of star power and could probably contend for Emily's List support as a more local alternative to Clark. With only a few months of experience she's unlikely to run, and perhaps that's best. But if the field were to break down for some reason, or if she felt the urge, she's a candidate who could make a big splash at an endorsing convention.
The first time I saw Melin campaigning in a room full of people, my thought was, "This looks like someone running for Congress." At some point I'm almost certain that will come true, though probably not in 2012.
Who else is on the list?
Brainerd Rep. John Ward is considering a run. I don't know as much about him, other than he represents Brainerd and was once mayor of Proctor, a nice cross-regional blend. He's been at a few events and has given fiery speeches. He'll have to figure out a way to outpace Nolan as the Cuyuna Range contender in this race. I doubt he'll run if Nolan announces.
At one point former Mora Rep. Tim Faust was rumored. He's endorsed Nolan. Rep. Ryan Winkler of Golden Valley was considering a move back to his hometown of Bemidji for a run, but he's abandoned that plan and has also endorsed Nolan. Rep. John Persell of the Bemidji area is considering a run, though it's not clear that Bemidji will be in MN-8, nor can he afford to wait until the lines are drawn. He's likely to stay put.
With all this speculation, I have to add a couple more items: The dream candidate. This is someone not running, not rumored to run, but that I am suggesting for my own nefarious reasons, mostly entertainment.


Dennis Anderson
This beloved WDIO news anchor just retired. With an iconic, booming voice and deep, etched roots in northern Minnesota, Dennis Anderson would garner immediate attention. He's never said whether he's a Democrat or Republican. A Catholic deacon, he'd probably line up as a conservative Democrat if he was one at all.
But I can picture the debate. Dennis Anderson at his podium looks to Cravaack. "Chip, what have you been doing?" And Cravaack, in shame, would walk off stage and resign. The crowd would not cheer. They would sigh. The remainder of the debate would be spent with Denny telling stories. This dream makes me very happy. It is far more favorable than the reality of this race, which I will summarize in the conclusion to this series tomorrow morning.
Cleanse yourself of dirty politics with this video of Anderson's final sign-off from WDIO!
Read Part 1: Redistricting Scenarios; Part 2: Chip Cravaack; Part 3: The non-candidates, Part 4: Jeff Anderson; Part 5: Tarryl Clark or Part 6: Rick Nolan. Follow MinnesotaBrown on Facebook or Twitter for news. My book, a humorous primer on life north of the metro, is "Overburden: Modern Life on the Iron Range
."